Jeff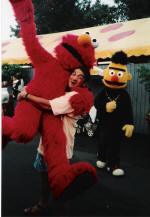 I am Jeff...you know...the funny one.
I was born in Okinawa, Japan, to an Air Force dentist and his wife, Art and Lea, during the Vietnam War. I found out later in life that Steve, of Some Guys in a Car, and his family were stationed at the same Air Force Base, at the same time. Alas, our paths were not destined to cross so many years ago; that would take a much larger twist of fate.As an Air Force brat, I traveled often, living in places like Illinois, California, and Germany. I eventually settled down in Maryland and have been here since 1982. Mom and dad moved back to California where it never rains, is always at least 70 degrees, and they can brag to me about how wonderful it is there trying to get me to move their grandkids closer to them.
The first Some Guy I met was Steve, at a Catholic Youth Organization meeting on Andrews Air Force Base. I hated him from the first moment I saw him and that's because he ran against me for Vice President of the group and won. I was at every meeting for a whole freakin' year, he shows up a week before elections and wins!!!! I hated that kid but, eventually, we became good friends because our parents would go out of town a lot. Never together, mind you, but always for no less than a week ... and always far away like Europe, Australia or somewhere exotic. So, we became friends because we would party at each other's houses while our parents were away partying with their friends under the auspices of some kind of professional association "Convention".
Through those parties I met Tim, who also lived on Andrews, but I never ran into because his dad was enlisted and mine was an officer and WE don't mingle with THEM. This is why I met Steve first. Enough about the Class struggle in our US Military ... back to the real story. I met Tim at an SCP. That's a Steve Carr Party for Steve's parents and all you listeners we didn't grow up with. Yes, we made up an acronym, in true Military style, for a party at Steve's house while his parents were away. And no mom and dad, we didn't have an acronym for a party at our house because those never happened. I really liked hanging out with Tim because he had a super-hot little sister and I was usually the one to go pick him up for a night out on the town because we lived close together. I always managed to show up a little early so I could chat it up with Tiff, or Tim's mom who secretly loved me more than him.
I also met Arthur at a SCP, kind of an impromptu peep show more than a party, but we immediately bonded, living vicariously through Steve and his horny girlfriend. Arthur and I shared a love of all things Michelob, but didn't spend too much time together. I guess it's because he's so much older than me.
Eventually the University of Maryland got tired of taking my money and gave me a Bachelor of Science degree in Aerospace Engineering. Since then I have never designed an aircraft or spacecraft, although I've done work on many systems that are not designed to fly. I have a Master of Science in Information Systems Management and can't design a computer network to save my life. I don't own a cell phone because I don't want anyone to be able to find me if I don't want to be found. I just recently got cable TV just so I could get hi-speed Internet access to do the podcast with Some Guys. I credit the podcast with changing my life. I never realized how crappy television was until I got Comcast Cable.
My son is 10, my daughter 6, and my wife and I have been married 11 years. I spend most of my free time working on my beat up old house, playing with the kids, and goofing off on the Internet. Despite my potty mouth on the air I teach a 7th grade CCD class on Monday nights at my church. I also volunteer as a mentor for my son's science competition team where we placed in the top 6 nationwide.
Quirky facts about me:
Now enough about me, tell me a little about yourself.